New slim format Tenger clay pavers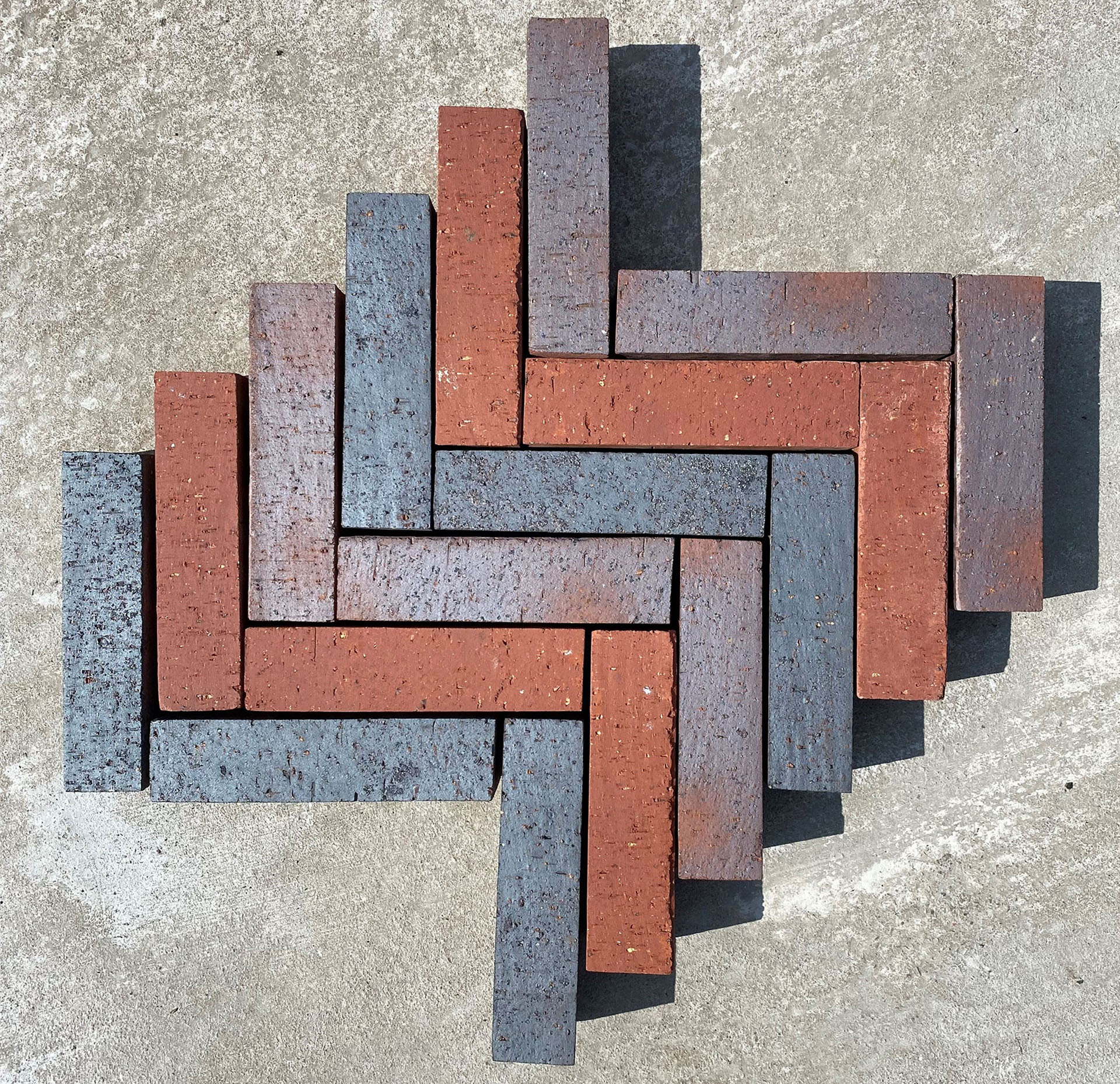 Our brand new range of Tenger clay pavers are a contemporary slim format. Similar in size to the dutch pavers, these are made in our factory in Brierley Hill in the UK and unlike the dutch pavers which tend to have tumbled edges, these are sharp edged and extremely hardwearing. They are made of the same Etruria marl clay as the rest of the Ketley range and have the same characteristics of extremely low water absorption and very high strength.
Their natural rich Staffordshire clay colours will not fade over time.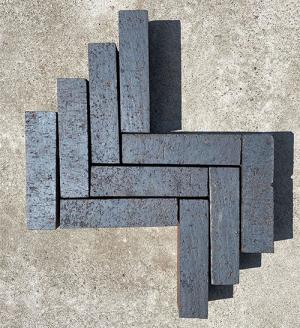 Environmental
Technical Spec
New Ketley Tenger Pavers Specification Sheet
Performance Standard: BS EN 1344:2013
Ketley Tenger pavers are produced at our works located in the heart of the Black Country where pavers have been made from our own Etruria Marl since Victorian times. Their unrivalled physical properties include their strength, durability and permanence of colour.
Download Specification Sheet
Work Size mm

Pattern

Pack Weight

No per pallet

Units/m2

Rigid with 10mm joint

Units/m2

Flexible butt Jointed (3mm joint)

200x50x65

Square edged

832kg

520

80

93

Colour

Staffordshire blue, Staffordshire brown brindle or red

Raw Material

Etruria marl

Manufacture

Extruded, Wirecut and fired above 1130 degrees C

Bulk Density

2,300kg/m3

Texture

Dragfaced

Size, Tolerance

BS EN 1344: 2013

Size Range

R1

Mean Transverse Breaking Load

T4

Unpolished Slip/Skid Resistance

U3

Abrasion Resistance


A3

Freeze/Thaw Resistance

FP100
Fittings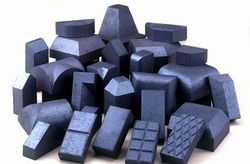 Ketley Brick have a long history producing special bricks and pavers.
View our Paver Specials Gallery
Browse our paver specials range online
Our unique plant produces a traditional natural clay colours for both the Paver and Brick ranges. Because our squares, pavers and specials are fired together, our colours are consistent through the range.
Ketley Brick also offers a made to measure service for bespoke requirements, this is covered in the Special Shapes section.
Contact us for further information
Paver Laying
Paver Laying
Clay pavers should be laid in accordance with BS 7533-3:2005+A1:2009.
For post laying care, download our guide here
Download industry guidance on paver cleaning here
It is useful to plan the layout of pavers before full scale laying begins. It may help to minimize the number of pavers that need to be cut. It will help to identify the likely sand surcharge needed in setting levels. It will also indicate the likely finished appearance and the standard of on-site workmanship.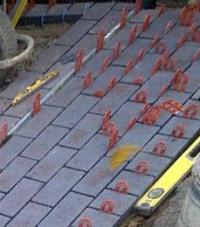 Clay pavers should be laid by hand, commencing from a straight starting edge on the prepared bedding course. They should be laid slightly open to provide a finished joint width between pavers of approx 2-5mm beyond the edge protection nibs to permit infill and to minimise damage in compaction and subsequent use. Failure to do this may result in chipping of the clay pavers.
Ketley pavers can be supplied with or without nibs. (Please note the nibs are there for edge protection of the pavers and are not spacer nibs, therefore the nibs should not be used to determine the gaps between pavers). If deviation from the bond pattern does occur, the pavers can be adjusted to open the Joints to about 5mm. This process is known as gapping. A small percentage outside this figure will not affect paver performance.
When a 90° herringbone bond pattern is used, a string line should be set up at right angles to the starting edge, and a "nose" of paving can then be advanced along it. When laying 45° herringbone pattern the laying face should develop parallel to the starting edge.
Pavers should be selected from three or more packs to ensure a thorough mix. If stocks of new pavers have to be laid on new work, they should be stacked about one metre back from the leading laid edge.

As far as possible whole pavers should be used. Pieces of less than 1/3rd of a full paver should be avoided. Various items in the Ketley range of

paver fittings

overcome this problem. Infilling of boundaries and obstructions should be completed before vibration commences. Paver cutting should be carried out by a disc cutter, not by the use of a splitting machine or hammer and chisel.
It is important to check the pattern of pavers against string lines as work progresses and adjust as necessary.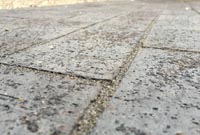 Once a sufficient area of clay pavers has been placed, approximately 40m2 on larger sites, fine dry sand should be brushed into the joints.
After brushing into the joints, surplus sand should be brushed away before compaction begins. Pavers should then be compacted into position by two or three passes of a vibrating plate compactor fitted with a neoprene pad. As recommended in BS7533-3:2005, the plate area should be at least 0.20m2. it should transmit an effective force of 50-75 :kn/m2 at a vibration frequency of between 60-1OOHz. Compaction should not be performed closer than one metre from any unrestrained edge.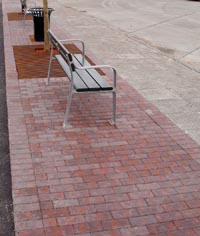 Further sand should then be applied and the procedure repeated. After final compaction 1-2mm of sand can be spread over the paved area to promote joint fitting and to fill any voids which may develop.
Commencement of use of the pavement may need to be delayed if the bedding course is saturated following heavy rain. During the early life of the pavement there is likely to be some settlement of sand within the joints. Therefore the site should be monitored and arrangements made for further sand to be brushed in, to top up the joints.
Instructions on how to lay for rigid construction can be found in our Clay Pavers and Fittings brochure (available here for download)
Cleaning
Paver Cleaning
Paved areas should be swept with a stiff brush on a regular basis, to remove dust and detritus that tends to accumulate, especially in sheltered corners, and around drains.
The paving should be inspected on a quarterly basis, looking for loose, damaged or stained paving, and checking that the joints are filled. Vacuum road sweepers should not be used during the early life of the pavement as they will remove the jointing sand. Other causes for loss of jointing sand include, erosion by exceptional surface water flow, the effects of high-powered engines or power-washers, action of ants or insects and loss due to movement of the paving.
In situations where an excessive amount of grime and dirt has built up, occasional steam cleaning should be carried out. Jointing sand levels should be checked after this operation and replaced as required.
Pavements in damp areas such as beneath trees and in permanent shade may develop unwanted weed or moss growth. Regular brushing will disrupt emerging weeds, a proprietary weed killer should be used which will have no detrimental effect on the pavers for more stubborn weeds. It is always wise to test the product to be used in a small area first.
Download our guide to post laying care her
Request Sample
Paver Sample Request Form