Staffordshire red blue extruded brick slips
Available in a Smooth, Sanded & Textured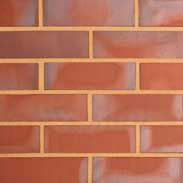 Staffs red blue smooth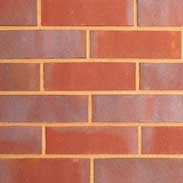 Staffs red blue sanded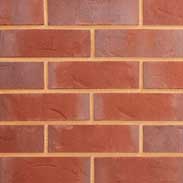 Staffs red blue textured
Ketley extruded red blue brick slips eliminate the need and cost to cut down bricks for use with pre-fabricated panels and other cladding solutions. The warm clay colours of Staffordshire red blue brick slips makes them a good choice for residential projects, either for overcladding an existing building to create an authentic brick facade or with panels for oakframe buildings and other building systems
Extruded pistol bricks for corners and returns are also manufactured to complement the range of brick slips, and they are fired alongside the slips to ensure consistancy of colour.
The colours are achieved naturally through the careful control of the kiln atmosphere without the use of surface pigments or artificial stains. This generates a warmth and authenticity to the brick colours.
Environmental
Technical Spec
Ketley Extruded Brick Slips
Standard: BS EN 771-1: 2011
Ketley Brick Slips are manufactured from the same clay, using the same processes as the Ketley Class A Engineering bricks and Dreadnought Roof Tiles to deliver the same technical characteristics of very low water absorption, very high strength and unrivalled frost resistance.
Download Specification Sheet as a pdf
Download Specification clause as a word doc
Type:

Extruded Brick Slips

Colour:

Staffs Blue / Staffs Brown Brindle / Staffs Red / Staffs Red Blue / Staffs Light Multi / Staffs Dark Multi /

Texture:

Smooth / Sandfaced / Textured / Dragwire

Manufacture:

Extruded

Dimensions:

215 x 65mm x 18mm

215 x 65mm x 15mm

Reverse Key

Ribbed key to a depth of <1mm

or Dovetail (for pre cast concrete applications) key depth 4.5mm

Weight 18mm:

0.57 kgs per slip

Weight 15mm:

0.45 kgs per slip

Water Absorption
≤4.5%

Durability

F2 (Frost Resistant)

Dimensional Tolerance Mean

T2

Dimensional Tolerance Range

R1

Fire Reaction

A1
Soluble Salt
S2
Net Dry Density
2200 kg/m3 = (Typically)
No. per m2 (10mm joints):
60

Packing:

Banded for fork lift off-loading.

Quantity on a pallet 18mm

1890 pieces Weight 1100kg

or 1650 pieces Weight 950kg (for delivery by courier)

Quantity on a pallet 15mm

2170 pieces Weight 1000kg

Special Bricks

A complete range of Special Shapes to BS 4729 2005 is available. We also undertake the manufacture of 'non-standard' specials to customers' specification as required.
Application Guide
Ketley Brick slips can be mounted in various ways and are suitable for use in external or internal applications. Slips can be incorporated into backing panels either with or without insulation. They can also be used for pre-fabricated arches, bay windows and chimneys.
Fixing using adhesive
Advice should be sought on the adhesive to be used for fixing brick slips from adhesive and backing panel manufacturers. Sand and cement mortars are not recommended. Please refer to adhesive manufacturer technical services to determine the correct adhesive for the application. Support will be required for the brick slips until the adhesive has set.
The thickness of the adhesive will depend on the application and backing substrate, generally the thickness of the adhesive will need to be between 6-12mm. Some systems will require the adhesive to be buttered on the back of the slips, other systems work with the adhesive applied with a gun. Specific advice must be sought from the backing panel manufacturer.
Pointing should take place once the adhesive has set. It is also important that both vertical and horizontal movement joints are considered and compressive joints incorporated into the design.
Download Elastic Slip Adhesive Information
Download Epoxy Slip Adhesive information
Pre-cast Concrete Panels
For pre-cast concrete panels Ketley brick slips are available with a 4.5mm deep dovetail key in the back to provide additional security to the adhesion of the slip to the concrete panel. The dovetail key will allow the concrete to set within the body of the brick slip providing an additional lock that will bind the slip to the panel. Contact us for further details.
Request Sample
Brick Slip Sample Request