Creasing Tiles
Creasing tiles are plain clay tiles without nibs or camber. They are used for cappings and copings, damp proof courses (DPC), external cills, corbelling, arches, chimneys and decorative quoins.
Their beautiful natural clay colour and thin format makes them a great choice for adding detail to a huge variety of projects including extensions, external walling, fireplaces, patios and even garden edging.
Ketley supply creasing tiles in three Staffordshire colours, blue brindle, red and brown multi
Case Studies
Creasing tile cladding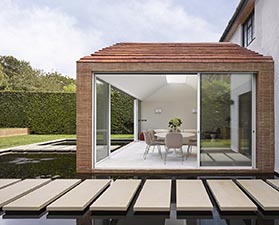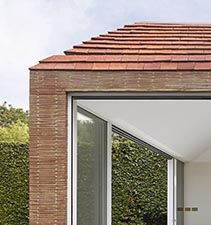 A 1950's house in Hertfordshire has been remodelled and extended by Dominic McKenzie Architects. The new extension relects the Arts and Crafts styling of the original house. It is clad in stacked creasing tiles and the new roof features Dreadnought's handmade deep red clay roof tiles. Full details
Decorative stacked creasing tiles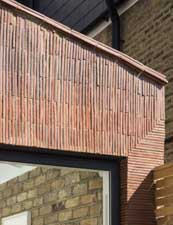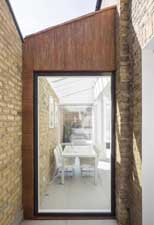 Yard Architects took inspiration from Arts and Crafts detailing on lintels and designed a new extension on a London house using stacked quarry tiles as cladding. It was important for the design that the quarry tiles had no camber and were as flat as possible and Ketley's were ideal for this. A blend of Staffordshire red and brown multi quarry tiles were used to reference the Victorian brickwork on the street side of the house. Full details
Decorative paving detail with creasing tiles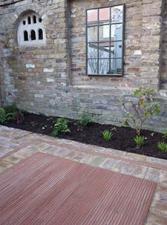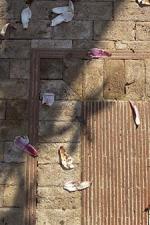 We love to see designers being creative with our products and Ula Maria Studios have certainly done that here in this elegant, residential garden project in Brixton. They have used Ketley creasing tiles on edge to provide paving detail and combined them with both reclaimed bricks and reclaimed yorkstone. Full details
Environmental
Technical Spec
There are no standards specifically covering Creasing Tiles, however our creasing tiles conform to BS EN 1304:1998 which covers Clay Roof Tiles and Fittings and they exceed the specification in terms of transverse strength and water absorption.
| | |
| --- | --- |
| | Creasing Tiles |
| Colour | Staffordshire Blue Brindle, Staffordshire Red, Staffordshire Brown Brindle |
| Size | 265x 165 mm |
| Thickness | 11mm |
| Weight per tile | 1.05 kg |
| Weight per pack | 1.20 Tonnes |
| No of Tiles per pack | 1000 |
| Finish | Smoothfaced |
| Material | Etruria Marl |
| Transverse Strength | 880N |
| Water Absorption | 3.9% |
| Freeze/thaw resistance | Conforms to BSEN 539-2 |
Laying Instructions
Laying Instructions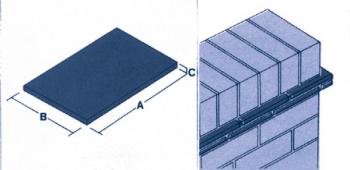 Creasing Tiles should be laid with a broken bond and a minimum lap of 75mm. The joint width between tiles should not exceed 10mm in all applications.
When cutting creasing tiles, a mechanical disc cutter is recommended over hand cutting particularly when used in exposed areas, as this will provide a neater appearance and help avoid cracks that can reduce the performance of the creasing tile.
For freestanding walls where creasing tiles are used under brick cappings, day courses of clay tiles should be laid with staggered joints in a 1:1/4:3 mortar and a minimum projection from the wall of at least 25mm.
Request Sample
Creasing Tile Sample Request Form