Staffordshire blue extruded brick slips
Available in a Smooth, Sanded & Textured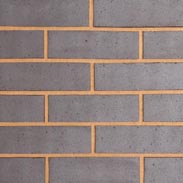 Staffs blue smooth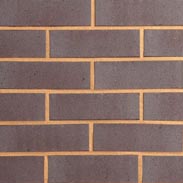 Staffs blue sanded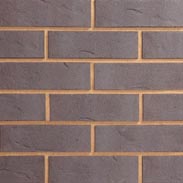 Staffs blue textured
Our Staffordshire blue extruded brick slips perfectly match our Staffordshire blue solid and perforated bricks as well as our Staffordshire blue brick specials as they are made in the same factory, using the same clay and firing techniques. This consistency of colour allows architects and designers the flexibility to select a combination of slips, solids, perforated bricks and specials for the most efficient build without making any compromise on the aesthetics or needing to cut bricks down.
Ketley slips use only 30% of the embodied carbon of a cut brick and are a higly durable, sustainable and cost effective choice for construction.
Matching pistol slips are also available.
Case Studies
Ace Hotel Shoreditch
Brick Award Winner 2014 - Best Refurbishment and Renovation Project
http://www.brick.org.uk/2014-award-winners/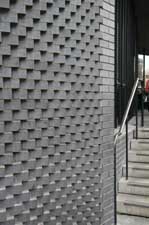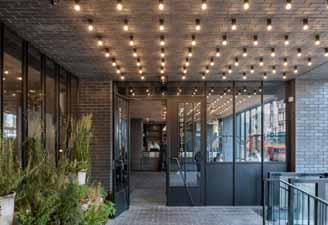 A combination of Ketley's Staffordshire Blue brick slips, solid bricks and specials helped to complete the transformation of a formerly dreary, blocky, business hotel, into the uber hip Ace Hotel in trendy Shoreditch. The designers, Universal Design Studio, have managed to plug this building back into its surroundings and at the same time have created a beacon of urban style. The clunking street façade has been broken up into a series of shopfronts more in scale with the ragged, mostly Victorian fabric of the Shoreditch streetscape, once a warren of cabinetry workshops and small retailers. The ground-floor walls have been clad in Ketley's staffs blue bricks and slips, which have been laid in complex patterns that appear almost to weave the façade back into the city. For more details >>
Harvey Nichols, Mailbox, Birmingham
Brick Award Winner 2016 - Best Innovative Use of Brick
http://www.brick.org.uk/brick-awards/2016-award-winners/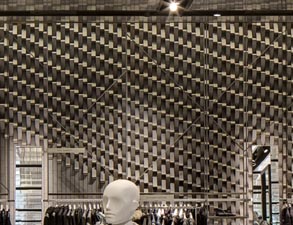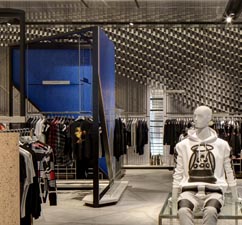 A brand new Harvey Nichols store, at Birminghams's exclusive Mail Box shopping center features Ketley Staffs Blue smooth brick slips and pistols to create an eyecatching backdrop to the luxury brands. Designers, Virgile and Partners, have created a bold and dramatic feature wall within the store famously conscious of its style, design and quality. Vertically coursed standard brick slips and pistol slips have been applied to the wall to create a 3D wave pattern that has an elegance and delicacy which, was considered "striking and attractive" by the judges of the prestigious Brick Awards. "Bold repetitive forms have been asssembled with neatness and precision and lit with care to achieve the subtle effects generated within the surface".
The 18mm extruded brick slips and pistol slips combine well with other materials to create a three-dimensional sculpture which is both eye-catching and well considered. For a retail interior, this sculpture shows "true innovative spirit" and contributes to the luxury feel of the store.
Towerblocks refurbishment in Birmingham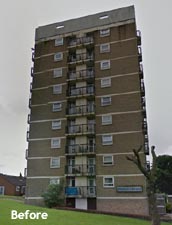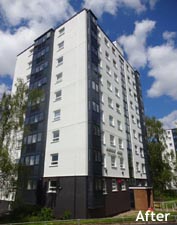 Staffs blue brick slips were used as part of an external wall insulation system for the refurbishment of 3 towerblocks in Birmingham. 90mm of Wetherby's EPSITHERM insulation (Enhanced EPS) was installed, then a bedding adhesive with mesh and fixings. The brick slips were then placed on the mesh by buttering the back of them.
Environmental
Technical Spec
Ketley Extruded Brick Slips
Standard: BS EN 771-1: 2011
Ketley Brick Slips are manufactured from the same clay, using the same processes as the Ketley Class A Engineering bricks and Dreadnought Roof Tiles to deliver the same technical characteristics of very low water absorption, very high strength and unrivalled frost resistance.
Download Specification Sheet as a pdf
Download Specification clause as a word doc
Type:

Extruded Brick Slips

Colour:

Staffordshire Blue / Staffordshire Brown Brindle / Staffordshire Red / Staffordshire Red Blue / Staffordshire Light Multi / Staffordshire Dark Multi /

Texture:

Smooth / Sandfaced / Textured / Dragwire

Manufacture:

Extruded

Dimensions:

215 x 65mm x 18mm

215 x 65mm x 15mm

Reverse Key

Ribbed key to a depth of < 1mm

or Dovetail (for pre cast concrete applications) key depth 4.5mm

Weight 18mm:

0.57 kgs per slip

Weight 15mm:

0.45 kgs per slip

Water Absorption
≤4.5%

Durability

F2 (Frost Resistant)

Dimensional Tolerance Mean

T2

Dimensional Tolerance Range

R1

Fire Reaction

A1
Soluble Salt
S2
Net Dry Density
2200 kg/m3 = (Typically)
No. per m2 (10mm joints):
60

Packing:

Banded for fork lift off-loading.

Quantity on a pallet 18mm

1890 pieces Weight 1100kg

or 1650 pieces Weight 950kg (for delivery by courier)

Quantity on a pallet 15mm

2170 pieces Weight 1000kg

Special Bricks

A complete range of Special Shapes to BS 4729 2005 is available. We also undertake the manufacture of 'non-standard' specials to customers' specification as required.
Application Guide
Ketley Brick slips can be mounted in various ways and are suitable for use in external or internal applications. Slips can be incorporated into backing panels either with or without insulation. They can also be used for pre-fabricated arches, bay windows and chimneys.
Fixing using adhesive
Advice should be sought on the adhesive to be used for fixing brick slips from adhesive and backing panel manufacturers. Sand and cement mortars are not recommended. Please refer to adhesive manufacturer technical services to determine the correct adhesive for the application. Support will be required for the brick slips until the adhesive has set.
The thickness of the adhesive will depend on the application and backing substrate, generally the thickness of the adhesive will need to be between 6-12mm. Some systems will require the adhesive to be buttered on the back of the slips, other systems work with the adhesive applied with a gun. Specific advice must be sought from the backing panel manufacturer.
Pointing should take place once the adhesive has set. It is also important that both vertical and horizontal movement joints are considered and compressive joints incorporated into the design.
Download Elastic Slip Adhesive Information
Download Epoxy Slip Adhesive information
Pre-cast Concrete Panels
For pre-cast concrete panels Ketley brick slips are available with a 4.5mm deep dovetail key in the back to provide additional security to the adhesion of the slip to the concrete panel. The dovetail key will allow the concrete to set within the body of the brick slip providing an additional lock that will bind the slip to the panel. Contact us for further details.
Request Sample
Brick Slip Sample Request