STAFFORDSHIRE BLUE
'Class A' facing brick
Where quality and durability are paramount Ketley blue bricks offer products that are tried and tested in the toughest environments. Ketley Staffordshire blue bricks have always been regarded as the mark of durability and strength, making them the choice for highly demanding environments.
Case Studies
Stacked brickwork extension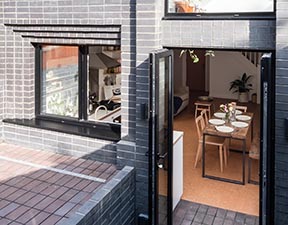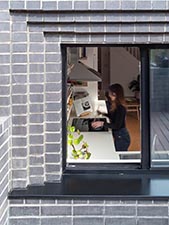 Built in the 1990's, Breach House in Blockley London lies alongside the former Croydon Canal, which was a big driver for the development of this area. Architects Studio Manifest wanted to give context to the new extension whilst also giving it a contemporary feel. Full details
Bridgnorth Station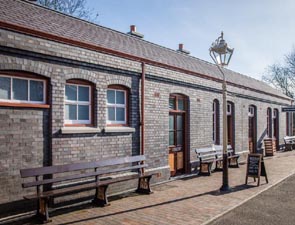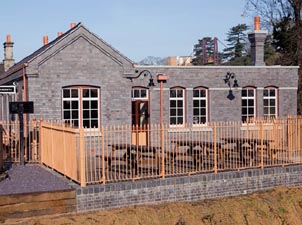 Planning permission and listed building consent were granted for a new Station building of demonstrable high quality that would minimise its impact on the sensitive heritage landscape. The new building is in the style of a typical GWR building from 1910 with considerable attention paid to external and internal details, materials and finishes. Ketley Staffordshire blue multi bricks with a natural blue tone and flecks of red annd brown on the face have an antique brindle appearance and were carefully selected to achieve the level of colour variation that would have been seen in this type of brick at the turn of the century. Full details
Residential Extension in Crouch End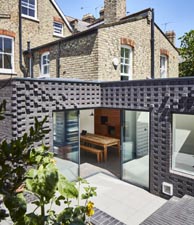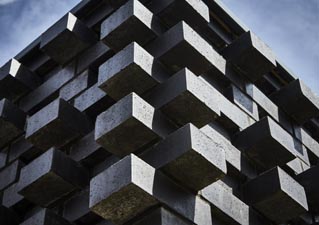 This striking extension of an end of terrace Edwardian home uses Staffordshire blue bricks to contrast with the existing yellow stock brick. The contemporary design, by Mulroy architects, uses both projecting and hit and miss brickwork to create shadows and texture in the building and the use of matching Staffordshire blue bricks on the terrace, laid on edge, connects the building with the outside space. Textured brickwork exposes the bricks to particularly severe freeze thaw conditions and Ketley are the only manufacturer to have tested their bricks for these types of textured brickwork. Mulroy Architects specified Ketley Class A bricks confident they had the right characteristics for this type of exposed brickwork. They also liked the aesthetics of the traditional staffordshire blue which can take on different tones according to the light. Full details
Napier University, Sighthill Campus, Edinburgh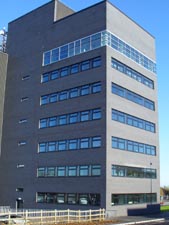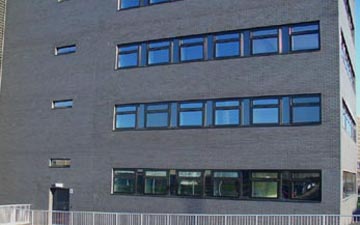 This new faculty building of Health, Life and Social Science was built by RMJM Achitects . The base of the building is in brick and the upper part is clad in aluminium cladding. Johnathon Pringle of RMJM Architects explains "A Staffordshire Blue Brindle brick was chosen on the basis of its colour and strength but it was a relatively expensive option. Alternatives were considered but while they could be sourced more cheaply, they could not offer the same high standards of performance. Ketley Brick are renowned for their Staffordshire blue product, and they were able to meet the strict criteria of both cost and quality".
Wilbury Hill Cemetry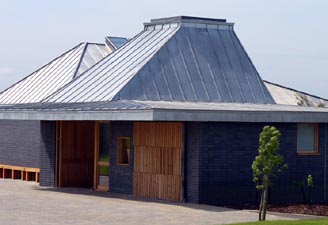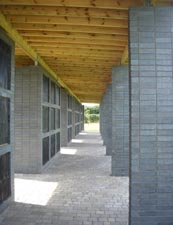 Designed by mae LLP architects and contructed in Staffordshire blue brick, larch and zinc, this building has been described as "a model 21st-century cemetery". Ketley's Staffordshire blue brick laid in a stack bond with a colour-matched mortar, is the major material used. The client, North Hertfordshire District Council, and the design team felt this type of brick would be more suitable than the more locally prevalent soft red brick as it was important to present a high-quality finish. The density of the hard-fired Class A bricks also minimises water ingress from driving rain on the exposed and windy site. Full details from the Brick Association
Isle of Dogs Pumping Station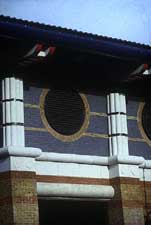 When John Outram was given the opportunity to design a building to accommodate pumping equipment and computer plant to return surface water to the river Thames he created not a basic industrial fabrication but a truly classical and enduring design subsequently christened the "Temple of Storms". Public access is denied, the building is visited only once a week for maintenance and because of the flood protection it provides to areas of London ,security against vandalism is of vital importance. Ketley Staffs Blue 'Class A' bricks are used for the transformer building and the lower, most vulnerable part of the main walls of the station. The perimeter wall is constructed from Ketley Brown Brindle 'Class A' bricks.
The Judges Institute, Cambridge University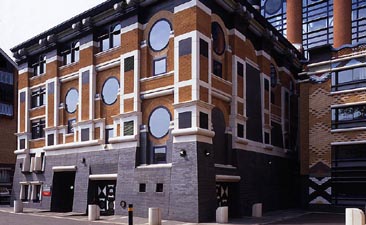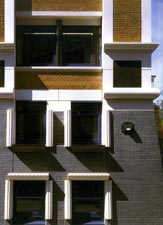 This impressive neo classical building designed by John Outram on the site of the former Addenbrookes Hospital is part of the Judge Institute of Management Studies at Cambridge University. Ketley's Staffordshire Blue 'Class A' Bricks and purpose made specials provide a strong base for the buff brickwork above and also give a high quality finish to this iconic Castle Building.
The London Docklands and the Dockland Light Railway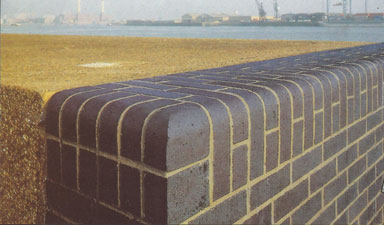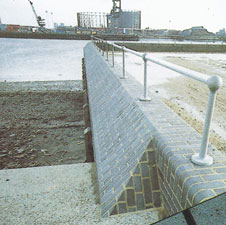 This project was organised by The Docklands Development Corporation between 1981 and 1994. Its purpose was to regenerate the area as it became evermore derelict following the introduction of containerisation. Ketley supplied hundreds of thousands of Blue 'Class A' bricks to renew the river walls in the various docks. These images are of London Yard, Isle of Dogs.
Malthouse at Warrington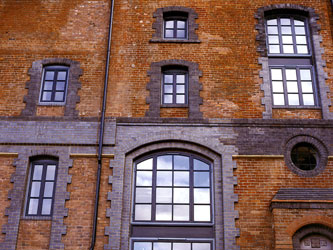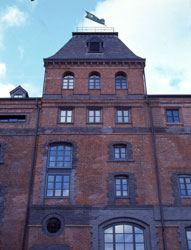 Special sized bricks in Staffordshire Blue were made to match existing brickwork to restore this old Malthouse in Warrington. New windows were introduced as part of the conversion of this historic building from commercial to residential use.
A North London Garden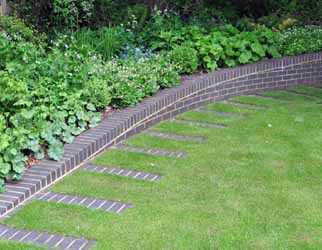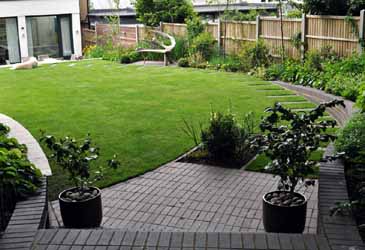 Ketley Staffs Blue bricks are used here in contemporary garden design. They are laid on edge as pavers and stepping stones in the grass and also form a curved retaining wall starting at ground level and gradually rising. The garden designer, Jilayne Rickards comments, "I love the Staffordshire Blues - they lend themselves as a fabulous backdrop to really great planting. "
Environmental
Technical Specification
Staffordshire Blue Brick Specification Sheet
Standard: BS EN 771-1: 2011
Ketley Staffordshire Blue Bricks are produced at our works located in the heart of the Black Country. Ketley Bricks have been made from our own Etruria Marl since Victorian times. They are recognised as a Class A facing brick of high quality with a strong aesthetic appeal.
Download Specification sheet as pdf.
Download Specification clause as a word doc
Download water absorption test report
Download compressive strength report
Download textured brickwork freeze thaw test report
Type:

Facing Brick Class A Solid

Facing Brick Class A Perforated

Colour:

Staffordshire Blue

Staffordshire Blue

Structure:

Solid

Perforated
≤ 25% void with a mean of 19%

Texture:

Smooth

Smooth

Manufacture:

Extruded, wirecut

Extruded, wirecut

Dimensions:

215 x 102.5 x 65mm

215 x 102.5 x 65mm

215 x 102.5 x 73mm

215 x 102.5 x 73mm

Complies with dimensions and tolerances of BS EN 771-1: 2011

Complies with dimensions and tolerances of BS EN 771-1: 2011

Weight 65mm:

3.3kgs per brick
3.3 Tonnes per 1,000

2.45kgs per brick
2.45 Tonnes per 1,000

Weight 73mm:

3.8kgs per brick
3.8 Tonnes per 1,000

3kgs per brick
3 Tonnes per 1,000

No. per m2 65 mm (10mm joints):

60

60

No. per m2 73 mm (10mm joints):

53

53

Pack Size:

400

400

Packing:

Banded for fork lift off-loading.

Banded for fork lift off-loading.

Weight per pack 65mm:

1320kg

980kg

Weight per pack 73mm:

1435kg

1200kg

Special Bricks

A complete range of Special Shapes to BS 4729 2005 is available. We also undertake the manufacture of 'non-standard' specials to customers' specification as required.

A complete range of Special Shapes to BS 4729 2005 is available. We also undertake the manufacture of 'non-standard' specials to
customers' specification as required. (Note: some specials are only manufactured solid).

Compressive strength:

Greater than or equal to 125N/mm²

Greater than or equal to 125N/mm²

Category:

II

II

Masonry Unit Group:

HD

HD

Engineering Grade:

A

A

Water absorption:

≤4.5%

≤4.5%

Initial Rate of Water absorption:

Less than or equal to 1.5Kg/m²/min

Less than or equal to 1.5Kg/m²/min

Thermal Conductivity:

On Application

On Application

Bond Strength:

0.15N/mm² (For general purpose and lightweight mortar)

0.15N/mm² (For general purpose and lightweight mortar)

Net Dry Density:

2200 Kg/m³(Typically)

2200 Kg/m³(Typically)

Density Tolerance:

D1

D1

Soluble salt content:

S2

S2

Durability:

F2

F2

Fire Reaction:

A1

A1

Dimensional Tolerance Mean:

T2

T2

Dimensional Tolerance Range:

R1

R1
Ketley Just Engineerings are sometimes available for applications not requiring a facing brick.
Download Specification and Quality Standard for Ketley Just Engineerings
Special Shaped Bricks
Special Shaped Bricks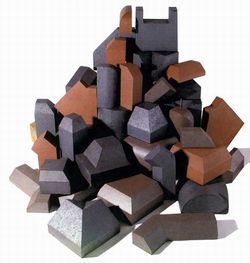 Because Special Shaped bricks are generally used in situations of severe exposure such as copings and cills, powerful resistance to water penetration and high durability has always been essential.
Ketley Bricks are generally solid and have stood the ultimate test, the test of time. In the early part of the 20th Century their blue colour was regarded as the stamp of durability, nowadays their performance under crushing tests, water absorption and abrasion tests is evidence of this.
The use of Ketley Specials to add a high quality finish to brickwork ensures extra durability and protection to vulnerable areas and will save time on-site by overcoming extensive hand cutting.
Download Special Shaped Brick Brochure
or browse our range of specials online
Consistent natural colours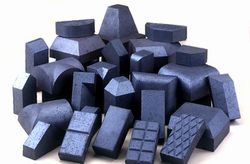 Our unique plant produces traditional natural Staffordshire clay colours for both the Paver and Brick ranges in Blue, Brown Brindle and Red. Because our bricks, pavers and specials are fired together, our colours are consistent through the range.
Ketley Brick manufactures a wide range of special shaped bricks for a multitude of applications.
Ketley will also manufacture specials from drawings supplied, allowing you to explore imaginative design options and decorative detail, confident that Ketley will be able to acurately match requirements.
Request Sample
Bricks Sample Request Form