Stamford Hill
Civic Trust Commendation winner 2019
Highly commended at British Homes Awards 2018 Development of the year
Bronze winner Best Mixed Use Development What House Awards 2018
Staffordshire Brown Brindle Class A Facing Bricks and matching Dreadnought Blue Brindle smooth clay rooftiles
Architects - Stockwool Architects and ISA Architects
Contractors - Tolent Construction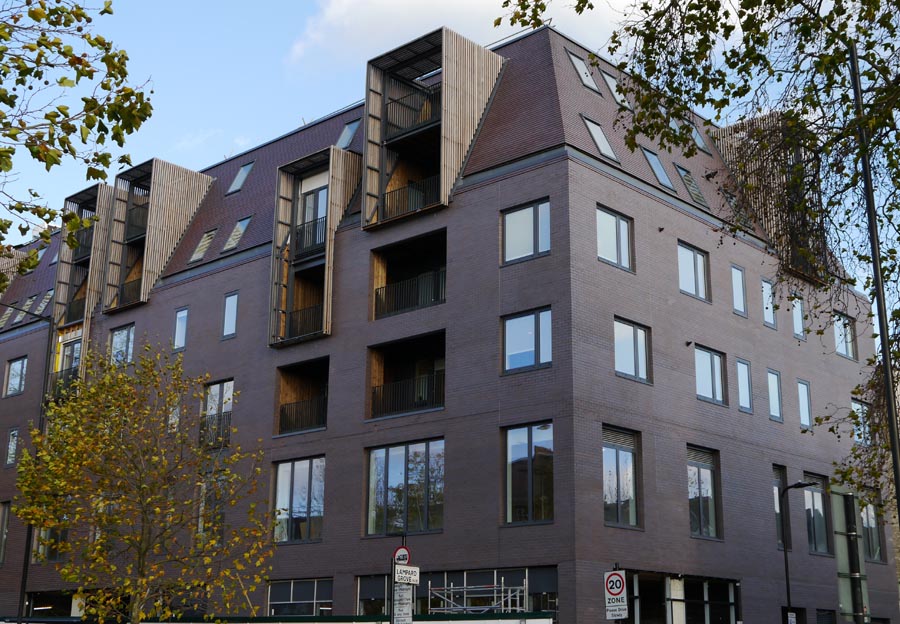 This mixed use scheme of residential apartments and office and retail units in North London was built by Tolent Construction and uses Ketley Brown Brindle facing bricks for the walls and matching Blue Brindle clay tiles from Dreadnought for the roof.
The existing residential blocks in the area which define the character of Stamford Hill date from the interwar period and are simple red brick facades with steep pantiled roofs and distinctive chimneys. This project was developed by ISA Architects, but planning consent was originally obtained by Stockwool Architects, who wanted this new scheme to draw on some elements of the existing buildings without copying them.
They designed a scheme where the clay roof transitions seamlessly into the brickwork of the walls and this was achieved by using a matching clay roof tile and brick. Large bay window balcony frames have been incorporated and these project from the smooth, clean roof lines breaking up the roof form and echoing some of the features of neighbouring buildings. The overall effect is to create a highly contemporary building that fits well with its existing adjacent neighbours.
Stockwool Architects explain "The choice of high quality wall and roof materials and their clear specification within the planning documents did much to convince the London Borough of Hackney's Planning Department that a contemporary building would be appropriate in this location."