Wembley Way
Ketley Staffs Blue plain chamfered pavers
Architects - Dixon Jones Main Contractor - Volker Fitzpatrick
Background
Olympic Way or 'Wembley Way' established itself as the iconic approach to the World famous National Stadium back in 1948 following the Olympic Games. From that time, its tree-lined pathway from Wembley Park underground station has offered a processional route to the stadium for most spectators, and television images of fans using it, as tensions build for the FA Cup Final, have made Olympic Way well-known to football fans all over the world.
In the Summer of 2017, proposals were announced for a joint project by Brent Council and developer, Quintain to enhance the quality of this seventy year old route. A Council report said:
'Olympic Way as a piece of public realm is showing its age. It does not present the type of quality considered consistent with the environment necessary for a world-renowned iconic venue and the wider Wembley Park development.'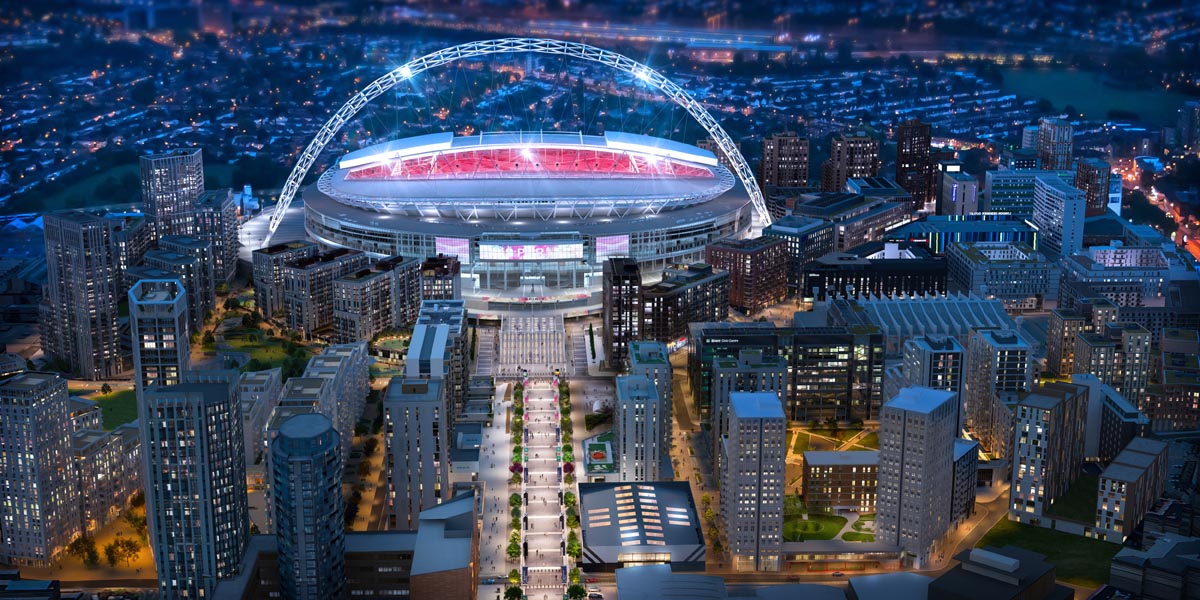 Challenges
Quintain wanted the new Olympic Way to create a World Class sense of arrival and they used virtual reality design to map out the entire area, simulating pedestrian flow for stadium event days and every day and study the different day and night time conditions.
The new scheme designed by Dixon Jones Architects draws on the heritage of the site, and uses over 200,000 Ketley Staffordshire blue clay chamfered pavers, laid in a herringbone pattern and is interspersed with bands of granite. The paving needs to withstand heavy delivery vehicles turning and Antony Charnley from Dixon Jones was concerned that this may cause the sand between the gaps in the pavers to move, which could then create movement within the paving. He decided to treat the paved area with Resiblock 22, which would keep the sand in the joints whilst giving the pavers extra protection against staining from food and grease stains. The clay pavers, made from Etruria marl clay and fired at over 1130 degrees, are extremely resistant to staining and their permanent Staffordshire blue colour will not fade over time. While the work was carried out, the stadium remained in use, with contractors Volker Fitzpatrick working around the schedule of matches. Strong hoardings were used to keep pedestrian channels away from the area under development.
Result
The new final part of the scheme will see the pedway being replaced by new steps and a landscaped piazza for public use. Bars, cafes and restaurants will line the sides of the new pedestrian walkway, bringing life and activity and turning Olympic Way into a destination in itself.