Barbican
Awarded a special commendation at Brick Awards 2015 for Best Outdoor Space
Ketley quarry tiles in brown brindle, dark multi and light multi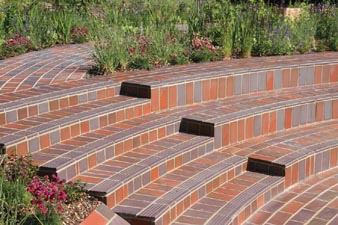 Architects - Bickerdike Allen Partners (BAP)
Main Contractor - Volkerlaser
Paving Contractor - Knotts
Ketley Paving tiles are helping to deliver the renovation of the Barbican podium area which began late 2013. As a listed building, the requirements were to maintain the general appearance of the paving while freshening the look of the area and delivering good slip resistance. Over 280,000 paving tiles in three brindle colours were supplied for the first phase of the restoration.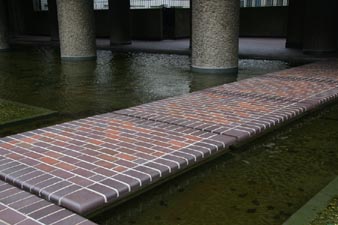 The existing pavers, old Hawkins Brown Brindle quarry tiles, were replaced with new Ketley Paving tiles specially developed for this project. With their improved slip resistance and more attractive colours, Ketley paving tiles are transforming Beech Gardens which forms part of the Barbican Estate.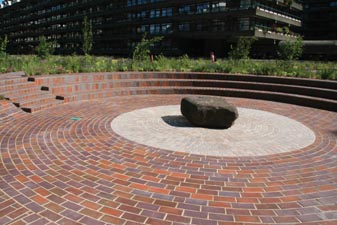 The existing tiles were taken up to enable renewal of the waterproofing and insulation. The pavers lifted were predominantly old Hawkins Brown Brindle 215x102.5mm quarry tiles which are smoothfaced, however there were also waffle tiles along the City Walkways. These waffle tiles have a square relief pattern which provided additional slip resistance on the walkway sections, the problems though with these waffle tiles was that water gathered in the grooves and moisture was transferred when they were walked upon, they were also prone to failure and they detracted from the appearance of the tiled area. The challenge was to produce a tile with at least the slip resistance of the waffle tile but in a smooth faced finish. The Ketley Brick Paving tiles achieve a significantly higher slip resistance than the existing smoothfaced and waffle tiles, with mean USRV of 68. It has therefore been decided that the waffle tiles are no longer needed.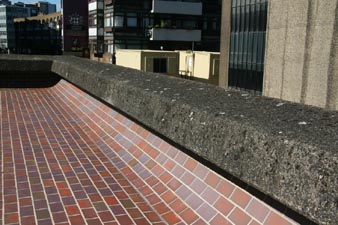 Previous paving work at the Barbican was carried out in the 80's when the Hawkins tiles were laid, which were of a uniform brown brindle colour. Across the Barbican estate the colours vary depending on when they were laid, the earliest tiles laid had a wide colour range and the objective this time round was to choose colours that are in keeping with what can be observed but also introducing more warmth and interest across the large expanses to be paved. Detailed consultation was undertaken with local residents and planners and a solution was agreed to use 3 tile colours mixed randomly together in a 40:40:20 ratio (brown brindle:dark multi:light multi)
The scheme demonstrates the enduring appeal of clay pavers whose rich colours provide a warm focus amidst the surrounding concrete structures of the estate. This has set the standard for further parts of the Barbican podium paving to be renewed in future years.