Ketley Brick win Best New Build at 2021 Facade Awards!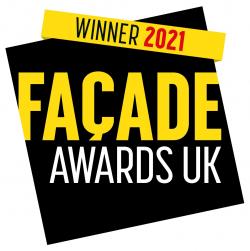 Ketley Brick are thrilled to announce that Three New Bailey , the new home to the HMRC in Salford, has won Best New Build at the 2021 Facade Awards!
The new woven facade, made from Ketley's class A Staffordshire red bricks was constructed during the pandemic by Thorp Precast. Over 1/2 million Ketley Brick products were used to create 657 precast panels which were put together onsite by Bowmer and Kirkland in just 13 weeks.
Designed by Make Architects, this is the UK's first largescale building of interwoven brick
Read more about this amazing project here
The project was also shortlisted for 2 Brick Awards, Best Commercial Building and Best Innovative Use of Clay. It was highly commended in the Innovation category.
Also Shortlisted for Best Commercial Exterior at 2022 Surface Design Awards, winners to be announced Feb 10th 2022