Victoria Gate Arcade Leeds

Architect - Acme
Precaster - Thorp Precast
Contractor - Sir Robert McAlpine
Brick - Staffordshire Red Brick Slips, Staffordshire Red Special Bricks and Staffordshire Red bespoke "snap headers"
Acme Architect's outstanding design used a blend of light and dark red Ketley brick slips in conjunction with bespoke special bricks to create precast brick faced panels which have been arranged in a complex geometry with steps and pleats to form an innovative 3 dimensional masonry façade.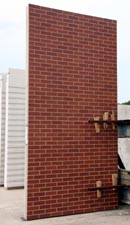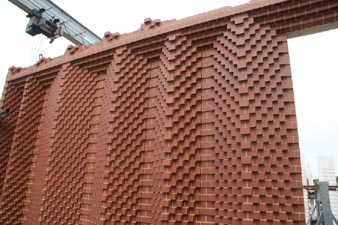 It became clear early on in the project that, as many bricks would have 5 exposed faces, choosing the right one would be key to the project's success. Dimensional stability, an absence of inferior faces, low water absorption and high frost resistance, high strength and the right finish to complement the predominantly Victorian local vernacular were all key requirements.
Luke Smerdon-White, Technical Director at Thorp Precast, who supplied the panels, explained that " a class A brick was really the only option for this project. The projecting headers and geometric shapes within the design required sharp edges and straight lines. On the exposed surface of the projecting headers, water can be held and the brick therefore needed to be of a high specification with low water absorption. In our rigorous testing, Ketley performed the best ."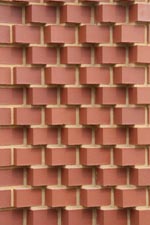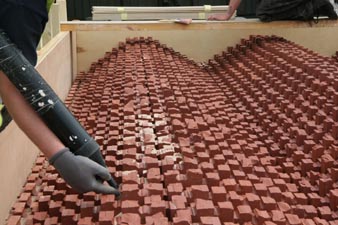 The colour of the brick was also very important both to Hammerson, developers of this prestigious retail arcade and to the planners Leeds City Council. Some variation within the red was required and Ketley supplied both light and dark Staffordshire red products which were mixed to good effect before being assembled into the panels. To eliminate the costs of cutting the bricks, Thorp and Ketley designed a bespoke die to produce "snap" headers that could be broken in 2 by hand without the need for cutting. These bricks once they had been "snapped" had a special perforation that allowed the concrete to get a positive key to the brick. Each brick and brick slip was carefully placed face down into specially designed moulds containing a negative of the pleated panel pattern and the concrete was then poured on top to a depth of 150-400mm. Once the concrete had hardened, the panels were removed from the moulds, meticulously cleaned and the bricks pointed before they were delivered to site for assembly.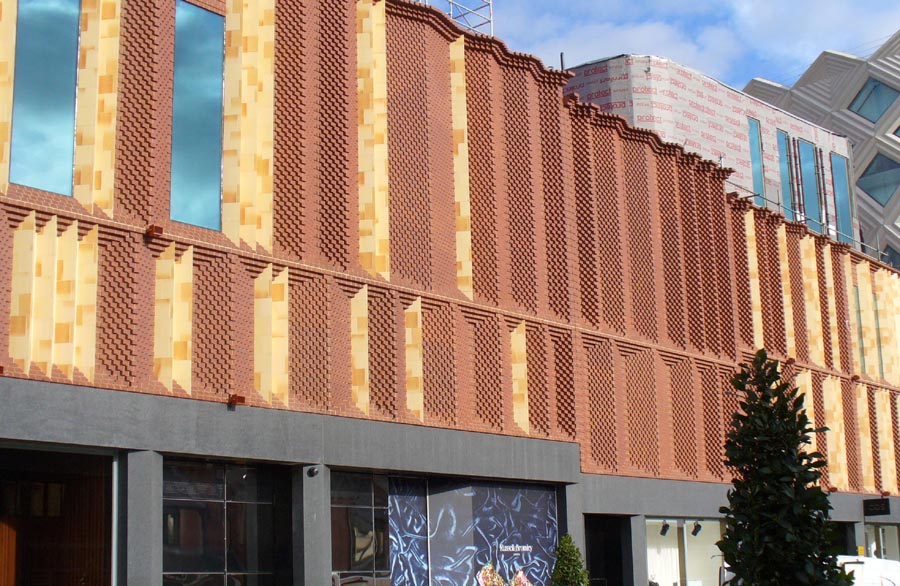 With almost 550 panels and a building of this scale and complexity, 3D software was used to plot and place every individual brick (there were approx. 360,000 used in total). The project is a fantastic example of modern construction methods using traditional brick. The use of bespoke special snap headers and extruded bricks slips eliminated the cost of cutting and minimised the embodied carbon in the building.